<![if !vml]>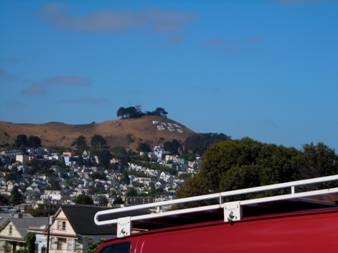 <![endif]>
Monday, July 6, 2009
Finally, after years of unified resistance by the brothers and a the building of massive support, California State prosecutors were forced to admit that they have insufficient evidence against the San Francisco 8.

Charges against four of the defendants were dropped and Jalil Muntaqim pled no contest to conspiracy to commit voluntary manslaughter. The State prosecutor asked the court to sentence him to 12 months calling it "a drop in the bucket." Judge Moscone replied "unless you're the one doing the time." Jalil received credit for time served (close to 2 1/2 years in County Jail) and 3 years probation. He will return to New York to fight for parole.

The charges were dismissed today against Ray Boudreaux, Richard Brown, Hank Jones, and Harold Taylor.

The courtroom at 850 Bryant Street was packed with SF 8 supporters after a rally of hundreds and a huge Free SF 8 banner was displayed on the hillside of Bernal Heights to be seen from all over the city. (see the photo above)

"This is finally the disposition of a case that should never have been brought in the first place," announced attorney Soffiyah Elijah.

Francisco Torres still faces a court hearing on August 10th. Francisco steadfastly maintains his innocence according to his attorney Charles Bourdon who intends to file a motion to dismiss the charges against his client.

Herman Bell entered a plea a week ago.
Herman Bell was supported by a courtroom of supporters June 29th as he entered a plea in the SF 8 case. After legal formalities he left the courtroom raising a clenched fist to the crowd.

Herman Bell pled guilty to the reduced charge of voluntary manslaughter for his role in the killing of San Francisco police officer John Young in 1971.

Part of the plea agreement is that Herman will not be a witness against his comrades and friends and cannot be called to any hearing as a witness by the prosecution.

His sentence is that he will be placed on informal probation for five years and will be allowed to immediately return to New York. He will receive absolutely no additional prison time for his actions.

Herman and his co-defendants have always maintained that because of the torture used by the New Orleans Police Department to gain alleged confessions and the lack of new evidence, these charges should never have been brought.

Herman's letter to supporters and friends follows.
***************************************
7/2/09

Dear friends­

Your strong showing of support at my plea/sentencing hearing this past Monday was truly heartening. For me, removing the possibility of going to trial when a proposal (though unpalatable) is offered that would leave open a future chance at parole in another jurisdiction was something I could not pass up. So I accepted the AG s proposal. There is no disunity here, just a tactical legal decision having been made. I could never be at peace with myself if I sat in a prison cell for the rest of my days knowing that I rejected a proposal that left open possible freedom one day. You expect me to think and act responsibly and to make responsible decisions. I expect no less of myself or of you.

I am so proud of you and all the work you ve done in our behalf and in waking our movement from its lethargy­proud of your speaking, proud of your fund-raising, proud of your organizing (the Labor Council, the City Supervisors, the Caravan to Sacramento­such a sweet piece of main stream organizing, and the tribute to Panther women). So very proud that you were in court to smile your greetings whenever we appeared; proud that you made bail for those of us who could bail-out, and that you routinely visited those of us who could not. I shall miss your frequent visits, so how could I not go forward in this without a heavy heart. I do so thanking you for being true to yourselves and thanking you for the love and righteous support you gave and are giving the SF8.

I love you all.

Herman.
<![if !supportLineBreakNewLine]>
<![endif]>