Hello everyone,
I wanted to invite all of you to an important celebration in memory of the BPP Community Center and The People Wall's mural.
On Oct 4th we will celebrate the restoration of The People's Wall on the corner of 20th & Spruce. This will be a celebration of not only of the restoration but also to honor the legacy of the BPP Community Center which was the center of the community in the 70s.
The first Community Medical Clinic, Food Bank program and legal aid clinic were established at this location as well as many other programs and services for the community, creating a legacy that will last for ages. This mural will serve as a reminder of the tireless work of the members of the Black Panther Party.
I am attaching a flyer as well as blurb below. Please forward to your lists and I hope you can join us, including the original artist's family, on the corner of Spruce and 20th on Oct 4th at .
Aaron Dixon
Executive Director
Central House
1122 East Pike Street #960
Seattle, WA 98122
Ph: 206-522-5412
PS I thought I sent this out last week but it was sitting in my Outbox. Sorry for this short notice.
Celebrate The People's Wall
(Est. October 1970)
Saturday, Oct 4th, 2008
172 20th Ave (20th and Spruce)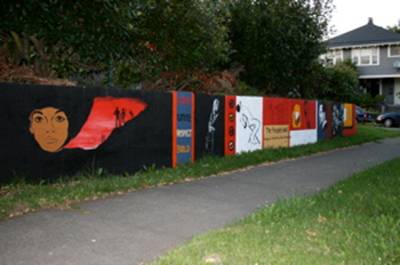 <![endif]>The People's Wall was designed and painted by Dion Henderson in 1970. It surrounded the Black Panther Party Community Center for 10 years in the Central Area of Seattle. The east portion of the Wall still exists today and embodies our extraordinary history.
<![if !vml]>
Come celebrate the restoration of THE PEOPLE'S WALL (restored by Artist Eddie Ray Walker), the history of the Black Panther Community Center, and the Artist Dion Henderson whose work reflected the feeling and movement of the times.
Special appreciation goes to the Seattle People's Fund, the Mayor's Office of Arts & Culture Affairs and Aaron Dixon who all were a significant part of the organization for the restoration of the The People's Wall.
All Power To The People.
Please bring donation of new winter clothing (coats, hats, socks, underwear, etc) sizes Toddler to Teen.